A boar bristle brush is a brush having bristles almost like our hair. It is not only used to style your hair but also to spread natural oils from the base of the hair to the tip of the hair. It makes our hair healthier, shinier, and stronger by distributing oil all around the hair. To use this bristle brush for the long-term, one need to clean it regularly. Today, I am going to discuss how to clean a boar bristle brush and solutions to many more queries about a boar bristle brush.
How to Clean a Boar Bristle Brush : 7 things You Need Before Cleaning it
● A clean comb
● A clean toothbrush
● 2 bowl
● Lukewarm Water
● Shampoo
● A towel
● A scissor
9 Steps to Clean And Wash A Boar Bristle Brush: You Must Follow
There are 9 steps you need to follow serially to clean your boar bristle brush smoothly.
●      Making Your Boar Bristle Brush hair, sebum and dandruff free.
Take your boar bristle brush. You will see full of hair tangled and plenty of sebum and dandruff in it. You need to comb it in different directions forcefully. Next, you need to scrub its bristles by the tip of scissors. You will notice that most of the hairs, sebum, and dandruff are gone. Further, you have to mobilize your fingers in every bristle and pick the remaining hairs and dirt.
Take 2 bowls and boil water in a container for a few minutes. Make sure that water is lukewarm. Hot or Cold Water will not be applicable in this case. Make 1 bowl filled up by this lukewarm water and keep the other Bowl empty.
●      Taking Shampoo And Pour it In a water-filled bowl
You can use any shampoo for this purpose. Pour 4 teaspoon shampoo into the water-filled bowl. Stir it forcefully to mix and make bubbles. You can use liquid soap instead of shampoo and mix it with lukewarm water. In case, when you have not shampoo or liquid soap in your home, you can use solid soap or detergent powder.
●      Putting the Boar Bristle Brush on the Shampoo Mixed Water Filled Bowl
A boar bristle brush has 2 broad surfaces. One is the surface of the full bristles to comb your hair. Other is the base without bristles. You need to put the full bristle surface into a shampoo mixed water-filled bowl and keep it to soak for 20 minutes.
●      Filling Up Our Empty Bowl
You have one bowl empty. You have to fill up the empty Bowl with Water having a normal temperature.
● Taking out the Soaked Boar Bristle Brush From That Bowl And Putting it to another Bowl
After taking out of the Brush slowly from shampoo mixed water-filled bowl, put it on the other bowl having water of average temperature. Keep it there for 7 minutes.
●  Shaking the Brush On The Water of Normal Temperature
After soaking it for 7 minutes on the 2nd bowl, you need to shake it forcefully on the Water of the same Bowl. Rinse the Brush in tap water.
●      Putting The Rinsed Brush On A Towel
Rinsed Brush should be kept on the towel for a minimum 2 hours so that water can get out from inside of the Brush.
●      Putting It In The Sunlight With Towel
You can put it in the sunlight with the towel for quick drying.
How Many Times In 1 Week You Should Clean Your Boar Bristle Brush: Maintain Regular Cleansing 
You should clean your boar bristle brush minimum once a week. 3 times a week is good to do.
How You Will Use Boar Bristle Brush For Stronger, Healthier And Shinier Hair: Use It Properly
There are some following steps to follow for this purpose.
● First, you need to bend by standing. Let your hair bend as your body.
● Comb the hair from the nape of your neck to the tip of the hair so that natural oil produced at the base of the hair can spread up to the tip of the hair.
● Do the number 2 step many times.
● Then, become straight
● Comb your hair from your anterior hairline up to the tip of the hair for the same reason I told in 2nd step
● Do the 5th step many times
Can You Brush Wet Hair: You Should Know
You should always use a boar bristle brush in dry hair. Using it in wet hair can damage your hair.
From What Boar Bristle Brush Is Made: You May Be Curious About
They are made from various kinds of wild boars. We can get high-quality bristles from these wild boars. These bristles are similar to our hair. Both consist of keratin.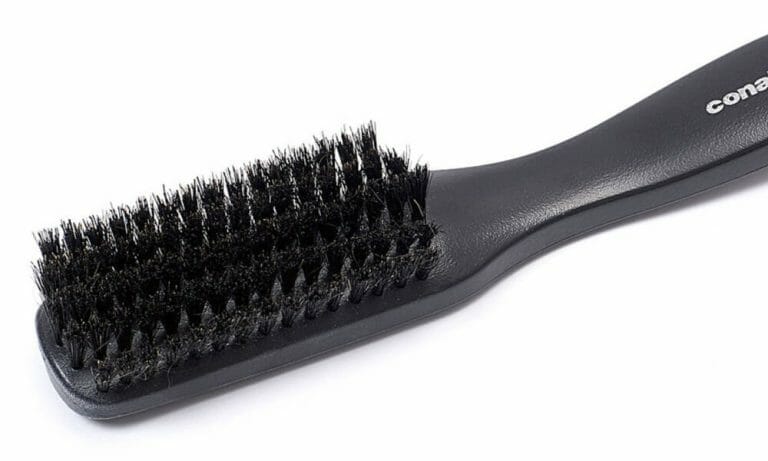 What Type Of Brush Is Suitable For Your Hair: Use The Suitable One
● Thick hair:
If you have thick hair, try to use mixed nylon boar bristle brush so that it can be able to penetrate your thick hair and scalp oil spreading happens smoothly.
● Thin hair:
If you have thin hair, you should use a pure boar bristle brush. It doesn't penetrate into your hair much and doesn't hurt you either.
● Super Thick Or Curly Hair:
If you have curly hair or super thick hair, you need to detangle your hair first by a wide-toothed comb. Then, you have to mix a nylon boar bristle brush.
Can Boar Bristle Brushes Cause Allergy: Know the truth
Some of you may have an allergy to boar bristle brushes. If you see the following symptoms while using boar bristle brushes, then you can assume that you have an allergy to Boar Bristle Brushes.
● Swelling
● Rash
● Inflammation
● Redness
● Itching
You should avoid using boar bristle brushes in that case and, most importantly, consult a doctor.
Conclusion:
Did you find a solution to your problem? Now, You know that how to clean your boar bristle brush, how to use it correctly for caring for your hair, and what type of hairbrush is suitable for your hair. If you are finding ways to clean your boar brush and don't know that it can cause allergy to you or not, this article is meant for you. Thanks for reading.